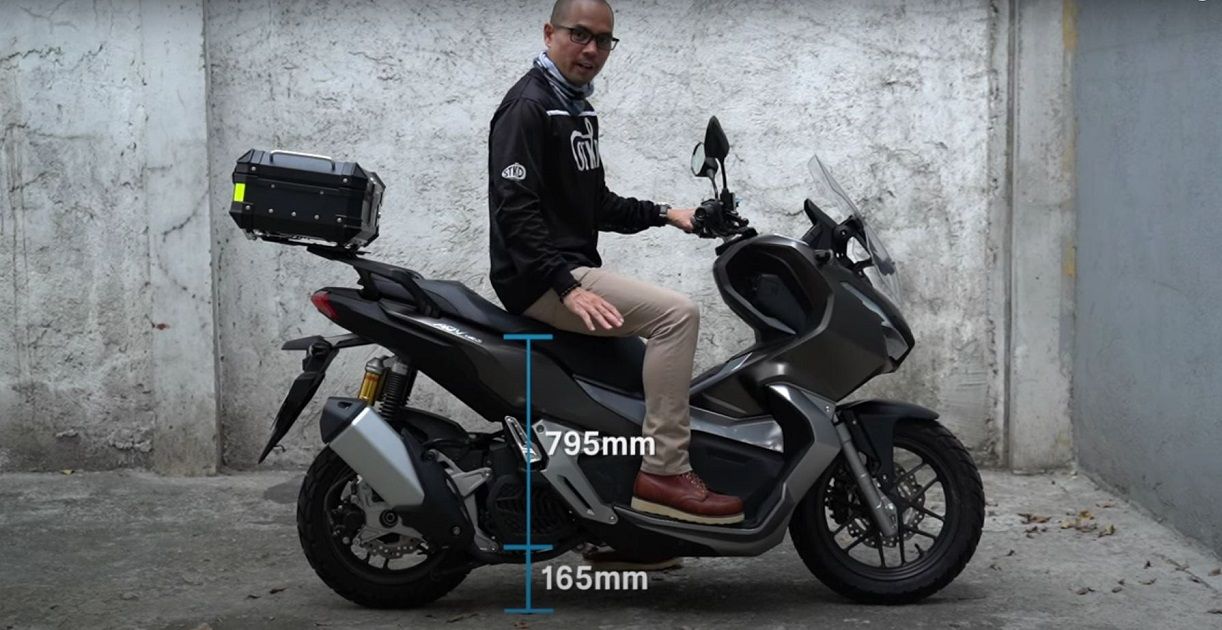 This is the coolest feature of the Honda ADV 150
People are always looking for exciting ways to explore the outdoors and travel at the same time. Some people use motorcycles, others recreational vehicles, and others choose to ride adventure scooters. Unfortunately, the idea of ​​riding a scooter instead of a motorbike is often considered uncool for a lot of people, but that is about to change.
One of the companies helping to change the perception of adventure scooters is Honda. The company now has the ADV 150, which currently offers two editions. The first being the 2021 version and the second being the new 2022 version. Both can be purchased from Honda's official website.
Being a new two wheeler in the market, there is a lot of excitement for the Honda ADV 150. People think it's great that those looking to ride adventure scooters have this great option from Honda.
There is a lot to love about the Honda ADV 150. It has a super cool design and it is fast for the purposes you would use an adventure scooter for. But what is it that really sets him apart? We'll explore the coolest features as well as some of the other aspects of the Honda ADV 150 that make it a great ride.
The coolest feature is the design
For many people, what sets the Honda ADV 150 apart the most is the overall design of the machine. This is because the Honda ADV, like some other adventure crossover scooters, looks more like a motorcycle than a scooter. This not only allows riders to have an easy and convenient way to get around, but they can do so in style as well. The Honda ADV isn't the first of its kind, but it's easily one of the best on the market.
The design of the Honda ADV is also excellent as it was created with comfort in mind. On the one hand, it has a wide screen with two positions. This allows the rider to either feel the breeze while riding or get better weather protection with the shield.
It also has a low center of gravity. This is great because it means you don't have to worry about the scooter falling too easily. Having a low center of gravity will help both in parking lots and in traffic. These are two situations that are often of concern to people who drive both scooters and motorcycles.
Adventure scooters should also have comfortable seats. This Honda offering has that to boot. Its long seat is designed for comfort and even has a raised section for your passenger. This allows them to see the surroundings as you ride and explore. On top of that, the seating space for the driver has more room than what you will find on most adventure scooters.
Overall, Honda did a spectacular job with the exterior appearance of the Honda ADV 150.
RELATED: Drunken Germans Lose Licenses at Ocktoberfest
Why else is the Honda ADV 150 loved?
The Honda ADV 150 is beyond doubt. While not as fast as a motorcycle, there is a decent amount of power produced by this Honda crossover adventure scooter. It is powered by a liquid-cooled 149cc four-stroke engine and has a single cylinder. This not only means that this scooter is capable of relatively high speeds, but it is also quite light in terms of weight. Getting a good balance between the vehicle not being too heavy but also having a lot of power can be tricky, but Honda has found a way to achieve it while continuing its striving for excellence.
In addition, the transmission is an automatic Honda V-Matic. This means that to drive the Honda ADV 150 you just need to start the engine and go. As we stress the importance of understanding how to change gears with a manual transmission, we see how an automatic scooter would be useful. It also means the driver can focus more on the road as well as sightseeing on their new adventure scooter.
You also get a 12-volt adapter, which allows you to keep your devices charged. This will go a long way for many people as most of us are connected to our devices. Not only that, but the Honda ADV 150 also comes with anti-lock brakes. This is a great safety feature for an adventure scooter because it gives the driver peace of mind.
RELATED: Harley-Davidson Reviews Electric Bikes and Scooters In Case Electric Motorcycles Break Down
The Honda ADV 150 is worth it
Some people may be hesitant to spend the price of a normal motorcycle on an adventure scooter. However, this bike is worth its price tag of almost $ 5,000. It is compact, quite fast and offers a lot of safety and comfort to the pilot. Also, the Honda name can be trusted a lot more than most. You can buy a Honda ADV 150 without worrying about having a lemon. The people who ride these things really love them and we know you will love it too if you are looking to explore the world in this way.
EXCLUSIVE: Drive the Jeep Gladiator 6×6 Hellcat-Swapped Apocalypse
HotCars contributor Michael Van Runkle tests the Hellcat Hemi from the Apocalypse 6×6 Jeep Gladiator conversion.
Read more
About the Author